That blogger Suzanne over at
3 Children and It
had this fab idea. 'I can't live without (insert item)'. It gets your brain on the go. What makes your life easy, fun, enjoyable. What is it that you CAN'T live without?
There are a few things that I can't do without. Coffee, I love it. It perks me up, it's my 'go-to' comfort for cold evenings and smells amazing. I love coffee. Could I live without it? Yeah.
Shit (isn't suggestion, can live without it). Next thing, I thought, go basic. Sleep.
*SCOFFS* I'm a parent, I've done without sleep, I will do without sleep and frankly I can live without it.
Next up, I nod all knowingly to myself. INTERNET. Yes that's it... Internet light goes off. Read a book. Hum, so I can live withouth it. (New fact).
I walk off into the kitchen and see my little cup.
My little limited edititon cup and saucer. I look at the name on the cup. *chuckle to self*
That is exaclty what I can't live without.
Reasons I can't live without Gin.
Gin keeps me warm. I can carry a hug in a hip-flask.

This particular gin, has a cork popping/twisting noise every time it's opened. Providing me with musical entertainment.

Gin, I can drink you from a bottle and pretend to be a pirate, thus fulfilling my need to fantasize.

Gin, you are so beautifully clear. If needed, I can pretend you are a very large glass of water.

You provide me with my 1 a day. Slice of lime with tonic. Olive, onion or cherry with martini. You healthy little beastie!

Gin, you are known as 'Mother's Ruin' Nice to meet you. I'm a 'Ruined Mother'. *nods*

Gin allows me to listen to people I find boring. Thus making me a very nice person.

When things go bad, very, very bad. I am cool, calm and collected. How? How are you so calm right now? Let me throw in a picture for you!
Gin is a staple in my blogging, twittering, online existence.

I drink it at night, dream of it in the day and smell of it in the morning. This helps me fill up my spare hours. How handy you are Gin!
Well, those are some of the reasons I can;t live without gin. It is a yummy, funny and down right sexy drink.
Lovely bloggy peoples who make me laugh. (Gin makes me laugh, but usually cause I'm drunk)
As with all memes take a minute put a little link back to the origins, pick your weapon of choice and then pass on the gaunlet to 3 other bloggers!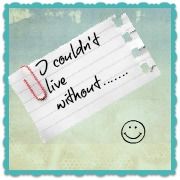 o